Note the Vibrati Punk Console kits are no longer available - these pages are kept for reference and interest. You can find the schematics and source code in these documents, but the PCB designs are not currently public.


Build Step 5 - Add Big Capacitors

The Vibrati Punk Console has 2 larger capacitors of a type called "Electrolytic". These have a polarity, a positive and a negative lead, and have to go in the circuit right way round. There are two ways to determine the polarity of this type of capacitor. The negative lead is shorter than the positive lead. Also one lead (normally the negative) is marked with an arrow on the side of the capacitor.
Identify the two capacitors as shown:
| | | |
| --- | --- | --- |
| Capacitor | Value | Markings |
| C5 | 100µF | "100µF" |
| C6 | 10µF | "10µF" |
Solder each of these capacitors in to the board with the correct polarity. On the board the positive lead is shown with a "+" sign and a hollow bar. Insert the longer lead in to the hole marked with the "+" sign.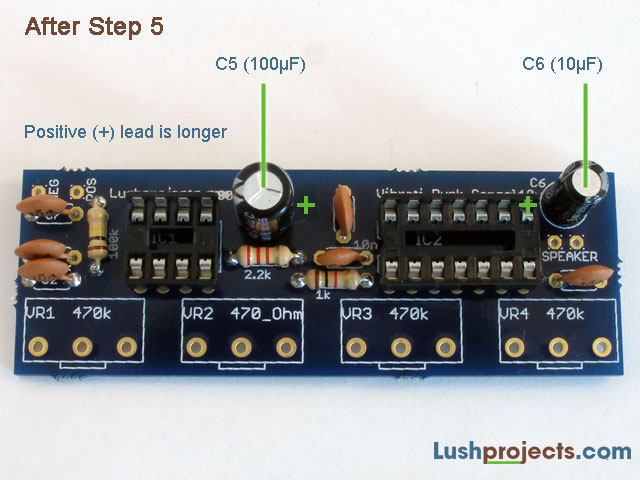 Next
Step 6 - Add The Variable Resistors