Note the Vibrati Punk Console kits are no longer available - these pages are kept for reference and interest. You can find the schematics and source code in these documents, but the PCB designs are not currently public.


Build Step 3 - Add Resistors

The Vibrati Punk Console uses four Variable Resistors to control the sounds, but at this stage we are just going to add the fixed resistors. Fixed resistors are small cylindrical components with coloured bands that indicate the value of their resistance. Resistors can go in to the circuit either way around.
Using the advice in the "Soldering Is Easy" booklet insert the three fixed resistors where shown on the board. These are the colours you need to know:
| | | |
| --- | --- | --- |
| Resistor | Value | Markings |
| R1 | 100k Ohm | Brown, Black, Yellow, Gold |
| R2 | 2.2k Ohm | Red, Red, Red, Gold |
| R3 | 1k Ohm | Brown, Black, Red, Gold |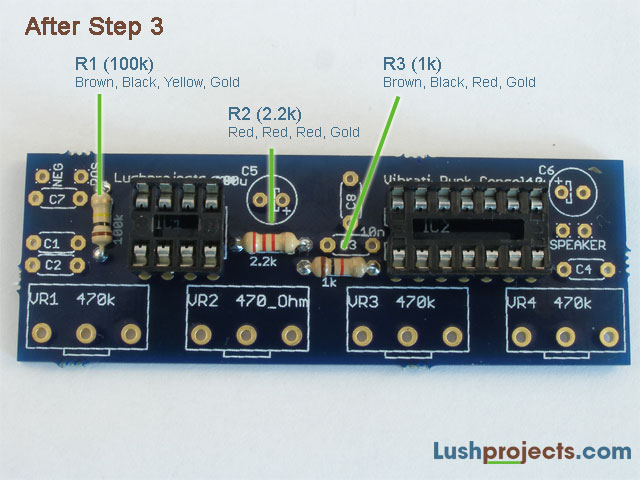 Next
Step 4 - Add Small Capacitors